Magna Carta: Tears of Blood in 2001, Pangya Fantasy Globe in 2004, and the Ragnarok Series in 2008–South Korea has never stopped developing games that reach the rest of the world. In 2020, the country's gaming culture went through a drastic change due to the pandemic. Mobile and console games consumption increased as more people stayed at home. Now, Korean game localization has become more crucial than ever.
Anyone aiming to conquer the gaming market in Asia should include South Korea in the list of target countries. Several international games have already taken over the country, namely Riot Games, Inc.'s League of Legends, Blizzard's Overwatch, and Garena's Arena of Valor. We can even say that Blizzard's Starcraft is the national pastime!
The South Korean video game industry is the fourth-largest in the world, giving game developers a great deal of opportunities. How big is your chance of successfully bringing your game into the country? Let us explore the video game market in Korea and discover how English to Korean video game translation and localization services can help you rise above the industry.
Korean Video Game Market Overview
Video gaming is considered a very profitable and sought-after industry across the globe. Asian countries comprise 40% of the world's top 10 video gaming markets, with South Korea as the fourth. The gaming market size in Korea reached an estimate of 17.9 trillion won in 2020, increasing 9.2% from the previous year. By 2021, it is set to exceed $16 billion, expected to hover around 18.3 trillion won, which is up by 7.4%.
Nexon Korea is the leading Korean game developer, followed by NCSoft, Netmarble, Krafton Game Union, and Pearl Abyss. These developers are behind many popular games such as Lineage 2M, Marvel Future Fight, and Bluehole. Let us not forget the open-world massively multiplayer online role-playing game (MMORPG) Black Desert Online.
Korea gaming industry statistics show that the Korean game mobile market pushed the domestic game industry's growth. South Korean players play PC games a lot, but mobile games dominate the market. In 2020, the mobile game market reached 9.4 trillion won, accounting for 55.2% of the total game market. This has given Korean gaming companies a hint on the many games they produce. As of June 2021, the most popular Korean games genres include puzzle, role-playing (RPG/MMORPG/MMORPG), Shooter (FPS/TPS/Gunshooter), Simulation, and Sports.
According to the Korea Creative Content Agency (KOCCA), more than 70.5% of South Korea's population regularly play games in 2020. The Korean game community prefers competitive games, and players like to play in teams. Games in the country are seen as a social element.
Korean game revenues are also seen as among the biggest worldwide. Korean gamers are "big spenders" when it comes to games, spending money on in-app purchases. But even though the video game market in Korea succeeds through these revenues, gamers still prefer free games. This gives the freemium model an edge as these games are free but still offer in-app purchases to willing spenders.
With a rundown on how massive the South Korean video game industry is, we can see how Korean game localization plays a big part in the success of games. Popular Korean games like PlayerUnknown's Battlegrounds (PUBG) only made it in the other countries because it was made available in different languages. The same goes for international games that entered South Korea. Yes, a video game translation into Korean is your key to entering the South Korean video game industry.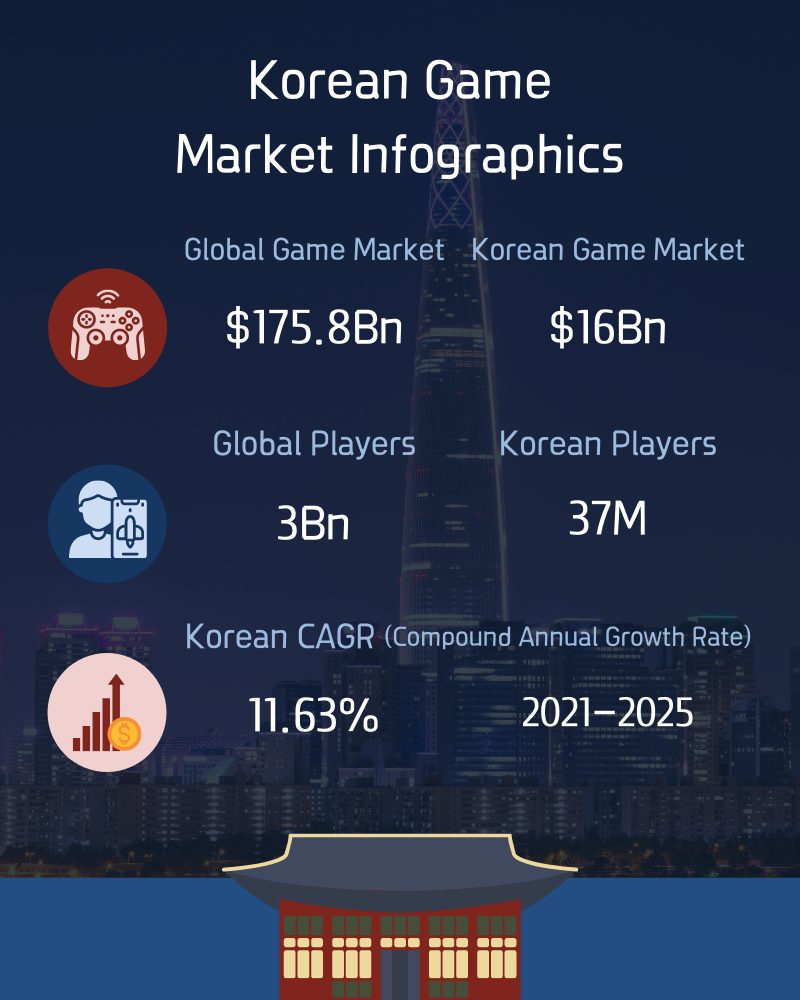 Korean Game Localization
Essentials
Localizing your game to Korean may sound easy. Still, just like other translation and localization tasks, not everyone can do it. Of course, you have to be fluent in English and Korean, and you must have complete knowledge of Korean culture. Korean game localization has its challenges for game developers, designers, and translators. Take note of the following points when going for English to Korean video game translation and localization services:
1. Think about the game's UI
The Korean alphabet, Hangul, consists of 24 consonants and vowel letters. They are grouped in blocks, consisting of two to six letters and at least one consonant and one vowel.
Moreover, Korean words and phrases are written from left to right or from top to down. Vertical writing is considered outdated, but it can still be relevant to games that use old manuscripts. It is a challenge to game localization because the English language follows a different format in the game UI.
2. Culturalize the game images
Korean gamers love playing games in their own language, so it is crucial to include the game images when localizing. This means you do not only consider the texts in your game UI but also the design elements. Do not forget to include the prices as well. You can use ₩ in the localized prices as players prefer to see their in-app purchases in Korean won.
3. Steer clear of cruel materials
Unlike other video game industries, the video game market in Korea respects freedom of expression and speech. Nevertheless, there is a history of banning games that show violence and cruelty. Moreover, games that include the Korean War and Japan must get more careful work.
It is also vital to consider formal expressions when translating and localizing. Make sure the context and nuances are expressed efficiently, respecting the