Multilingual customer support in the gaming industry
Over the recent years, the international gaming industry has experienced a massive boom. Year after year, it continues to have steady growth, placing itself ahead of both the music and film industries. The expeditious development of the internet and mobile devices opened new opportunities in the industry. More cutting-edge game studios make players' fantasy a reality in an intensely competitive landscape. 
Moreover, the COVID-19 pandemic has had a positive impact on the gaming industry in contrast to many other industries drastically affected by it. Along with other media and streaming platforms, the video game industry is experiencing an unprecedented rise, with people seeking entertainment at home during the lockdown.
According to statistics, the mobile phone gaming market increased by 24%, consoles by 20%, and PC by 11%. There are over two billion gamers across the world, which is 26% of the world's population.
Currently, the big games now act as their own standalone social media platform. The expedited growth of which is USD 200 billion in 2023, at an average growth rate of 8.3 percent annually.
Most video game developers, publishers, and operators try to differentiate themselves from the competition by providing multilingual player support. To ensure the best gaming experience for your gaming audience, CCCI provides comprehensive player support services in 30 languages across Europe, Asia, and the US.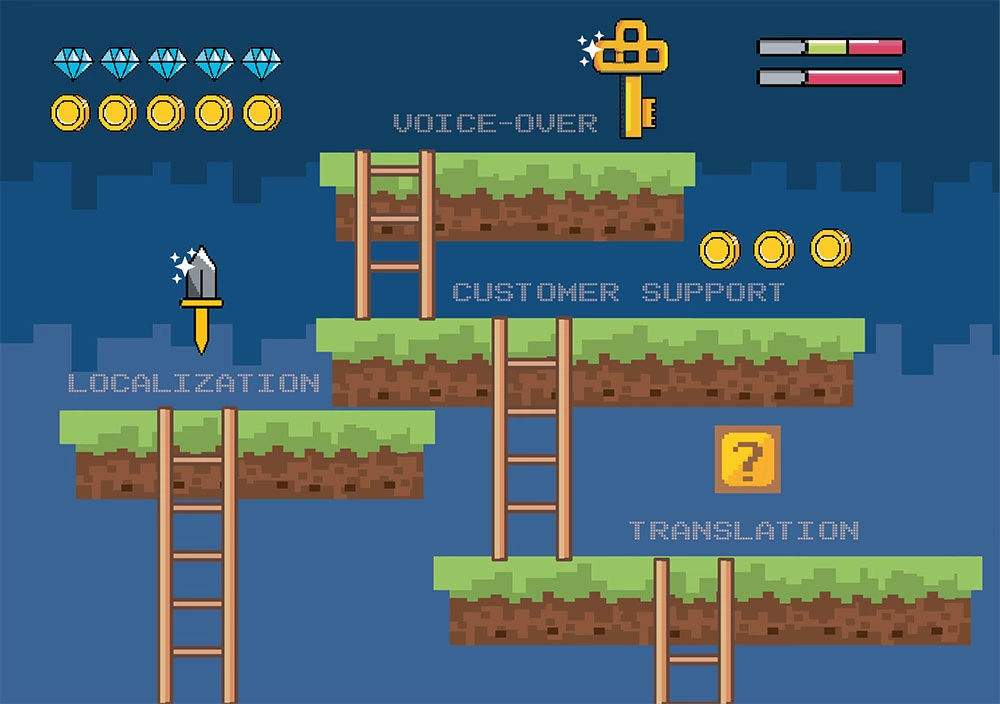 Rapid and robust game support
To get access to the billion-dollar gaming market and have successful and profitable game projects, you not only need proper game localization, but also game customer support services. Game support allows transitioning from the stage of simply attracting players, to retaining customers and maximizing their lifetime value. 
By providing gaming-related assistance, companies can benefit from:
🕹️ retaining customers and extracting more value from them
🕹️ creating brand loyalty
🕹️ growing customer lifetime value
🕹️ generating positive word-of-mouth about your business
🕹️ measuring player's satisfaction level
🕹️ bolstering business growth
🕹️ being above customers' expectations
If gamers reach out to you to solve a troubleshooting issue, then you should consider making game customer support a part of the full gaming experience. They may face problems with spammers, bugs, game updates, the internet, and system-related issues, etc. which they can only overcome through game support, leading to continued patronage instead of uninstalling your game.
CCCI – your one-stop studio for game localization and support outsourcing
During our 10 years of work experience, CCCI has provided game translation, localization, and support services to our clients from the world of gaming, from market leaders to smaller publishers and everything in between. Our team of native speakers ensures covering any kind of project in 30 and more languages.
We are not only game translators and localizers, we are also gamers. Our passion for playing games perfectly matches our years of experience translating titles for mobile, PC, console, and VR/AR platforms. That's why we are proud to offer turnkey multicultural and multilingual solutions in more than 30 languages in Europe, Asia, and the US. No matter if it's MMO or FPS, PC or console, AR/VR, or mobile game, we've got you covered.
The ability to innovate, tap into player feedback, provide real-time support and continuously improve the overall customer experience will enhance the connection game companies have with their customers as well as the global gaming community.
Above all,