Key takeaways
The

German game industry

is one of the largest in Europe and the fifth-biggest video game market in the world.

Game localization is key to success in any foreign market, and this is especially true for Germany.
Game developers in Germany have to consider cultural differences when localizing their games.

There are many benefits to being a

game developer in Germany

.

The

video game industry in Germany

is growing rapidly, with the German consumer game spending reaching 11 billion U.S. dollars in 2021.

The

top gaming companies in Germany

include Bigpoint, Gameforge, InnoGames, and Travian Games.

German-made video games

such as Anno 1800 and Die Siedler have been very successful both in Germany and internationally.

German video games censorship

is one of the strictest worldwide.

The

Germany video game market

is expected to grow even more in the coming years.

German gamers are passionate about various games, from sports to strategy, making it a great market.
Table of contents:
German Game Industry

Game Localization in Germany

Benefits of Developing Games in Germany

CCCI – Professional German Game Localization Services
Germans love sports, so it is no surprise that they are also enthusiastic about games. They have a lot of fun with card games, board games, and children's games. And through the years, the country has also grown fond of video games. The German game industry topped the European game markets in 2020.
In June 2020, Germany ranked as the region's most valuable video game market at 5.97 billion U.S. dollars. Now, it is one of the largest in Europe and the fifth-biggest market for video games in the world. This is an impressive feat considering that the German gaming industry only started to emerge in the early 2000s.
With such a large and growing market, it is no wonder that more and more companies are looking for localization services to enter the German gaming industry. Game localization is key to success in any foreign market, and this is especially true for Germany.
German Game Industry
Skat, a traditional German card game that originated back in the early 19th century,  was and still is a popular game in the country. From here, it is unsurprising that German companies were some of the first to develop and release video games. In fact, their game industry started with the development of "Weltmeister" in 1982.
However, it wasn't until the early 2000s that the industry started to take off. One of the main reasons for this is that the internet has become more widely available in German households. With this came a whole new wave of video games that could be played online.
Since then, the industry has been on an upwards trend and it doesn't seem to be slowing down anytime soon. In 2021, the German game market saw approximately 9.8 billion euros in revenues. It grew by 17% from 2020, and it is expected to keep growing in the years to come.
Germany had 34.3 computer game players in 2020. By 2021, 50% of Germans played computer and video games, with 16% of video gamers aged 10 to 19 years. About 403 video game companies in Germany publish and develop games, giving the world iconic German-made video games like Anno 1800 and This War of Mine.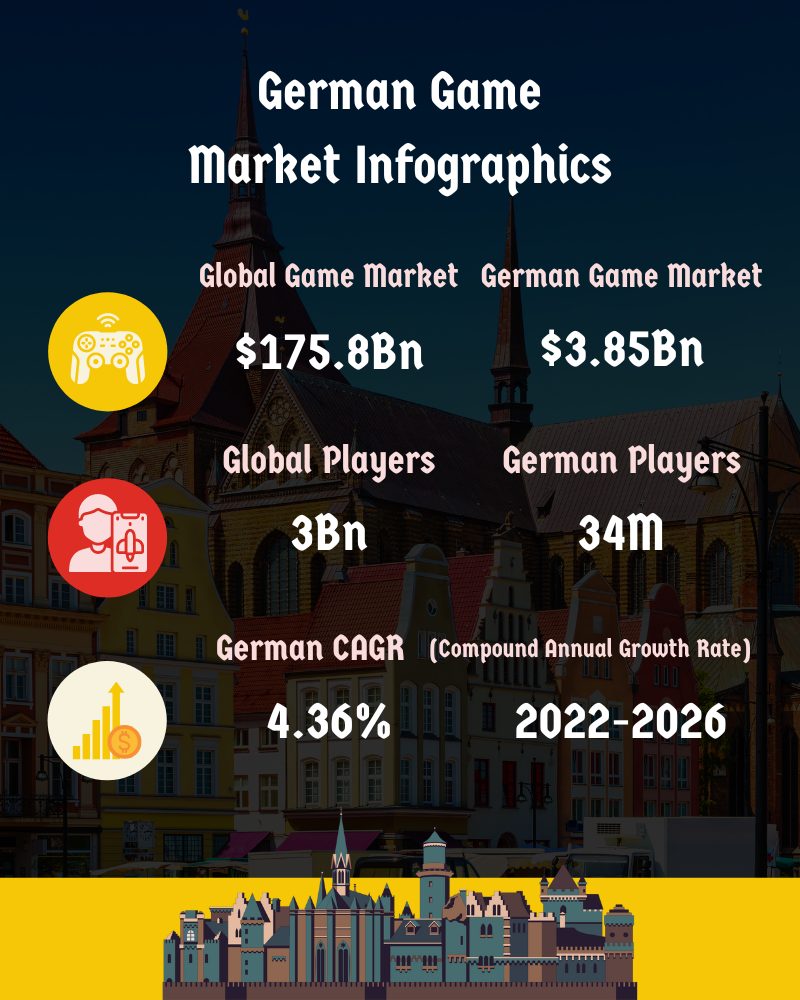 Yes, Germany is one of your top choices if you are aiming to enter the European gaming market. But as with any other foreign market, success is not guaranteed without proper game localization. If you want to sell your games in Germany, you need localization. The German market is very different from others, and your chances of success are slim without localization.
Game Localization in Germany
German gamers are not only different in terms of the games they play but also in the way they consume them. The State of Online Gaming 2019 research reported that German players spend more time playing than gamers in other countries. They play for nearly eight hours per week.
Moreover, according to a 2021 survey, 76% of German gamers had spent money on games in the last 12 months. The German Games Industry Association also reported that German consumer game spending reached 11 billion U.S. dollars in 2021. This is where localization comes into play. If you want to maximize your chances of success in the German market, your games need to be localized.
Note: German gamers, like other international gamers, are very discerning and will not hesitate to move on to the next game if they don't find yours enjoyable.
When you localize a game, you have to include even the smallest details. It does not start and end after you localize a game title into German. You must know the game and its story, the characters, and everything in between. You also have to consider the gaming culture in Germany.