Key takeaways:
The

US video game industry

grew by 6% from 2020 to 2021.

The most popular console operating system in the US in 2021 was Microsoft's Xbox.
The US is home to widely popular games and a big target market of international game developers.
Localizing your game

is a significant factor in your success as a game developer.

The growth of the gaming industry across the globe lies in excellent

video game localization services

.

Translation and localization of games work best when handled by professionals.
Table of contents
US Mobile and Video Game Industry

Tips to Localize your Game Properly

CCCI – Professional Game Localization Services
The Entertainment Software Association (ESA) reported a total of 226.6 million video game players in the US of all ages in 2021. What do the numbers mean? The US video game industry is one of the biggest across the globe!
There is a wide range of factors to the continuous growth of the mobile games industry and the gaming console market. It is high time for game developers like you to optimize this constant rise in the numbers of gamers in the different regions worldwide.
Let us explore the world of gaming in the US, other giant gaming industries and how investing in video game localization services is the best way to get into game development.
US Mobile and Video Game Industry
Microsoft, Activision Blizzard, Apple, Electronic Arts, and Zynga. We all know these names, and yes, they are five of the top 12 online gaming companies worldwide. What do they all have in common? They are all from the United States! The country has always been a contributor to the gaming world. And apart from the popular games, the US also has millions of gamers that the game developers from other countries target.
In 2019, the US video game industry had 164 million players, and the numbers swelled by 30% in 2020. The following year, ESA's annual report showed that 55% of US video gamers had played more because of the pandemic. When people had no choice but to stay indoors to stay safe, they had more time to play games. So what happens if the pandemic is over? Well, 90% of the audience said they are likely to continue playing even after social distancing is no longer a thing. That is good news for game creators, both from the US and other regions.
The retail gaming revenue in the US reached 7.55 billion USD in December 2021. Online gaming companies in the USA have already succeeded in reaching local and international audiences. In fact, the top 20 best-selling games in the country in 2021 include Activision Blizzard's "Call of Duty: Vanguard" and "Call of Duty: Black Ops: Cold War." Of course, we cannot miss Electronic Arts' "Madden NFL 22" and "Battlefield 2042." What else made it to the market? Nintendo's "Pokemon: Brilliant Diamond/Shining Pearl" and "Mario Kart 8." The country is undeniably home to excellent games and a potential market of international game developers!
Note: Nintendo is a Japanese multinational video game company. It ranked fifth in the media and entertainment industry in 2021.
When we say there are a lot of gamers in the US, we also mean that the country has a big console game market share. Some of the best-selling video game consoles in the country are the Sony PlayStation 4 Pro, Xbox One S, and Nintendo Switch. Microsoft's Xbox was the most popular console operating system in the US in 2021, having a market share of around 53%. It was closely followed by PlayStation, with about 47% of the market share.
Interestingly, the retro gaming market is also booming. In 2021, a copy of the Nintendo 64 classic "Super Mario 64" released in 1996 sold for $1.56 million through Heritage Auctions. Thanks to market speculators, the game's value spiked 20 times its previous sales price. Why do they invest in game collectibles? Simply because of the nostalgia. These players remember playing video games in their childhood.
We get it; playing video games is a big thing in the US. Games by US companies have entered international markets, and games by global companies have succeeded in the country. How did this endless cycle happen? Believe it or not, it is all thanks to video game translation companies.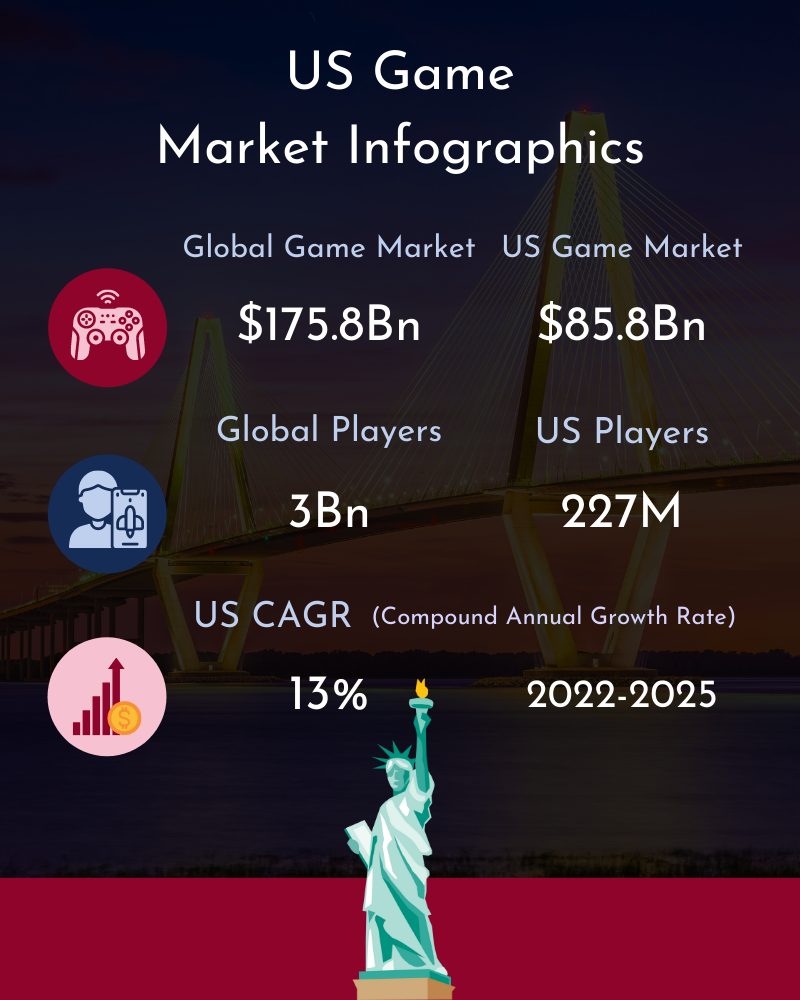 Tips to Localize your Game Properly
The video game industry has a very long history. When you understand how video game localization services have greatly influenced the industry's growth, you will also realize how it is a vital aspect of a game's international success. Let us start by knowing the most in-demand languages for game translation.
English – USA, UK

Chinese – Taiwan, China

Japanese – Japan

Korean – South Korea

German – Germany

Spanish – Argentina, Mexico

Portuguese – Brazil

French – France, Canada

Italian – Italy

Russian – Russia
These countries have some of the biggest gaming industries worldwide. That means if you make your game available in these languages, your game will spread like wildfire! But that will not happen with just a simple translation of your game. Localization in video games bears more challenges than you think. This is why localizing your game is an investment!
Game localization involves proper planning and internationalization. It requires a team of experts that can work within your timeframe and budget. It starts with content analysis, where you identify the materials that need a translation. This is also where you determine your target audience, necessary resources for the project, and the exact game elements that require adaptation.
Pro Tip
It is vital to determine all the elements in your games, such as texts and voice overs. All these are included in a successful localization!
Once you have analyzed your content, you can start with your localization kit, which will help your translation. This step involves maintaining brand consistency without compromising the context of the game. Document any and all information about your game's world, items, and story elements. Do not forget the importance of proper terminology!
Note: Terminologies depend on your game's concept. Your game could be fantasy-based, a puzzler, or action-adventure. These genres use different terminologies so using the fitting one matters a lot.
The first few steps already give you hundreds of files to sort. It helps to have a management system before you actually start translating. And when you are finally translating your game, you have to keep regional localization in mind. Your top-most aim is to make your target audience feel at home when playing your game.
Pro Tip
It is possible to rework parts of your game's story or visual elements if necessary. Your game can be more successful if it adapts to your target market's regional culture.
Of course, you must never forget about quality assurance. Localizing your game involves endless consultations and revisions because the first run is never perfect. This is where you realize the incredible importance of a native speaker. They must be on top of the grammatical, spelling, and linguistic matters while prioritizing the context of your game.
Now, when you are done translating and localizing your game's texts and voice overs, the next big question is… How do the contents look and fit into your game?
The translated texts will meet the other elements of your game, such as the characters, graphics, and overall design. Remember that not all languages have the same lengths, especially in texts. You do not want your translated and localized game to look cramped, do you? It must look just like the original version but in a totally different language for a diverse audience. Yes, your localized game will go through endless UI/UX adjustments until it is perfectly ready for the market.
Management systems might not be a challenge for you, but the language bit will definitely need professional skills. Unfortunately, learning a new language cannot happen overnight! Use your time in what you do best (game developing) and let the experts do the rest. You can always rely on professional localization services by CCCI!