Video games are played across the globe, from Paris to Tokyo to New York City, and are developed on all five continents. Many countries get massive revenue from developing and creating games, but Italy has one notable exception. Why are there not many games produced in Italy? In the following blog, we will be talking about the game industry in Italy in general, mentioning a few things related to Italian game localization and highlighting the importance of CCCI's game services.
Key takeaways:
Due to a lack of structure in the industry, countless bureaucratic problems impede the development of Italy's more significant game industry.
Concerning Italian localization, administrative problems such as the regulation of the protection of the work, the legal definition of who does business in the video game sector, and the weak relationship between developers, designers, and publishers are all matters yet to be solved in the country.
Due to the pandemic, Italy has recorded higher new records for games and hardware, reaching a net worth of almost 2.2 billion dollars.
Table of content
Game Industry in Italy
Italian Game Localization
Top Game Development Companies in Italy
CCCI – Professional Italian Game Localization Services
Game Industry in Italy
Even if Italy is the 10th biggest market for video games, worth $1.8 billion, and has about 26 million gamers, there are no major video game developers in the peninsula. Some small studios like Ubisoft Milan and kudos, but nothing that comes close to other developed countries.
Two factors influence the game industry in Italy: culture and economics. Starting with the former, being a gamer in Italy is a bit of an experience different from other gaming countries such as the USA or the Netherlands. Italy is indeed home to a high level of gamers both by net value and per capita. The majority are casual and only play big franchises such as FIFA or Call of Duty. That is not to say that all Italians only play sports games, but a substantial part too and consider gaming like leisure and not a passion; claiming that video games can be much more than just a pastime is deemed to be silly at best.
Unfortunately, the games present in the peninsula don't enforce a strong gaming culture. If you take 2020 as an example, the most sold games in Italy were GTA FIFA, Call of Duty, Minecraft, and Dragon Balls. These are not bad games by any means, but as a consequence, the common Italian man thinks that video games are footballer shooters and not also big narrative-driven adventures. In other words, in Italy, gaming is not taking a load into consideration games are often looked down upon by popular media.
Note: Italy is known to make high-quality products from food to fashion to Ferraris to films to furniture, but unfortunately, the gaming industry still needs to flourish.
Every time you hear "video games" ever mentioned on TV is when old people talk trash about new trends. Keep in mind that Italy is the oldest country in Europe and second in the world, and since gaming arrived quite late in the Mediterranean, not many other folks in the country have ever touched a gamepad.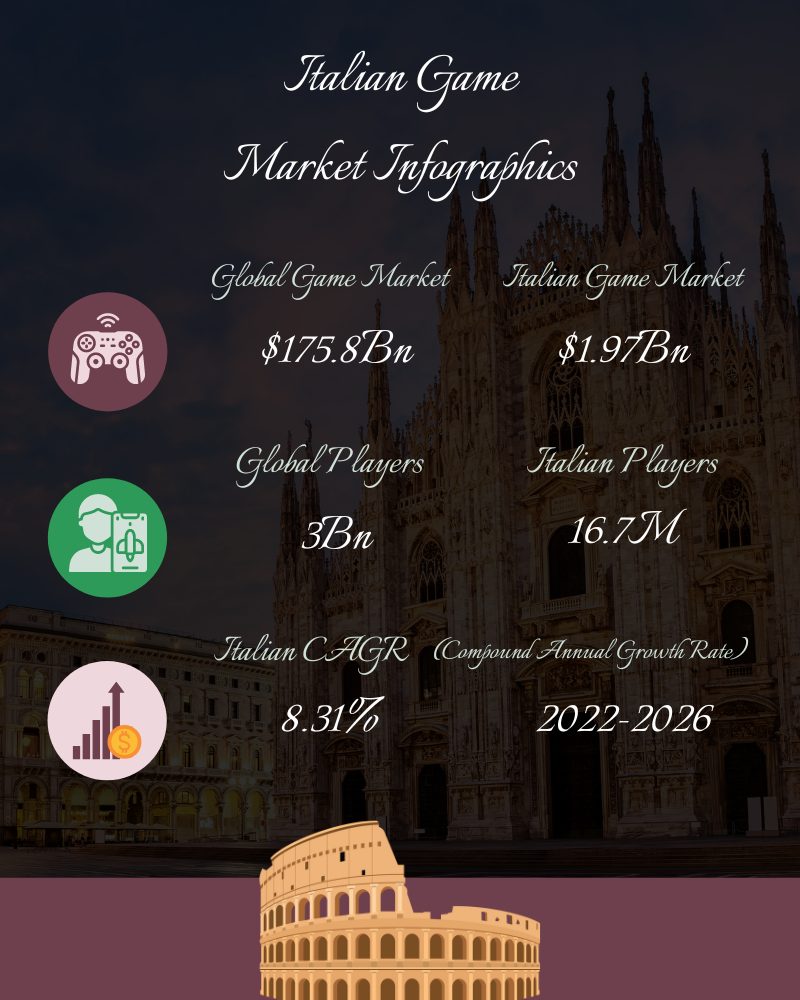 In an interview with Paolo Kizari, president of the Italian interactive digital entertainment associations, he claimed that Italians are not so open to a new culture, and that's something that really was an issue and still is an issue. But right now, the phenomenon of video games is so significant that the government needs to at least try to understand what's the situation. He and many others highlight the cultural challenges faced by Thailand studios and how crucial it is to defeat prejudice to make these fields grow more. 
Professor Alessandra Micalizzi goes a bit more in-depth into this issue. In her research, she lists four main cultural obstacles to the Italian gaming industry: widespread prejudice on the role of games as a social practice, lack of higher education regarding video game development, cultural risk aversion, and cultural predisposition. Professor Micalizzi goes quite a lot in-depth into each point for piracy, but this is a quick synopsis. 
The first point we already explained is that gaming in Italy is considered child's play. Adult gamers are non-static at best and immature at worst. The second challenge is education. While there are great universities and professional schools in the country, there are not many laureates in specific technical game development skills from game design or programming degrees. The third point regards idleness in general. Italians avoid taking risks, hence doing things like investing in yet not developed industries. Finally, it is piracy. Since piracy played an influential role during the 90s and 200s, Italians tend to attribute less value to digital productions such as video games.
In a nutshell, culture plays a big part in why the gaming industry has not taken off in bell. It is next to impossible to measure all variables separately. Still, it is clear that the wrong combination of reasons led to an undeveloped culture of gaming in comparison to other European countries and thus the lack of big studios in the Italian peninsula.
Italian Game Localization
The Italian game localization is facing similar challenges to those of developing games in Italy. The cultural problems the video game industry faces are wrong; however, these obstacles are not uniquely Italian, so what's the practical reason the video game industry didn't kick off in the nation.
The answer is made of three simple words: lack of capital in Italy. Since no major development team has risen yet, obtaining capital to kickstart an actual company is an arduous task. In other words, why would investors put money in newbies when they know other countries have more significant and more successful markets. From the development point of view, why would you raise to work for a small business when elsewhere in Europe great companies already exist. This is a bit of a catch-22 situation. There cannot be any snowball effect if there is no snow to work with.
Furthermore, the game industry in Italy has the particularity of having prominent hotspots rather than being spread around evenly. More than six countries are the biggest for game developers in the continent, while little is left for the others since game developers set up new shops next to already existing game developers. It makes sense that promising game studios would instead open in Stockholm rather than Naples since the city already hosts big names such as Dice Avalanche Studios and many others. In addition, the little Italian gaming industry present in Italy has a different approach to business than in other countries. As explained by professor Fabio Viola, the UK has a more industrial policy on gaming while Italy has maintained an art in the industry. This means that Italian developers currently developing games in Italy do not wish to compete with big productions but rather prefer to create smaller indie titles.