Key takeaways:
Saudi Arabia, the United Arab Emirates (UAE), and Egypt had a game revenue of USD 1.76 billion in 2021.

Gamers from the three

Arabic-speaking markets

reached 65.32 million in 2021.
Saudi Arabia had the largest revenue in the Middle East and North Africa region in January 2021.

The

mobile gaming industry in the Middle East

represents 23% of the entire global gaming industry.
Egypt is an emerging games market for 2022.
Nearly half of the MENA population is under 25 years old, with gaming as one of the primary forms of entertainment.

The success of international games in MENA is highly possible when you

localize games into Arabic

.

As an international mobile game company, you can successfully expand your mobile game into MENA if you translate mobile games from English into Arabic.
Table of contents
MENA Mobile Game Market

How to Successfully

Expand your Mobile Game into MENA

 

Localization in MENA Arabic countries

CCCI – Professional Arabic Game Localization
The gaming industry has undeniably gone through notable growth since the pandemic in early 2020. There was an increase in revenues in different countries across the globe as most people had more time for gaming while staying at home. While some Asian countries, along with the U.S. and European countries, made it to the various lists of top 10 gaming markets, there is one region that game developers should not miss. Yes, it is time to expand your mobile game into MENA.
The Middle East North Africa (MENA) region is quickly becoming a hotspot for the gaming industry. The region, also known as West Asia and North Africa (WANA), often consists of the following countries:
Algeria

Bahrain

Djibouti

Egypt

Iran

Iraq

Israel

Jordan

Kuwait

Lebanon

Libya

Malta

Morocco

Oman

Qatar

Saudi Arabia

Syria

Tunisia

United Arab Emirates

Yemen 
The region makes up 6% of the world's population. That might seem like a small number, but the gaming audience in the countries is highly-involved. In 2021, the Middle East gaming market forecasted a threefold growth. And in 2022, the industry's value is projected to reach USD 4.4 billion.
Sounds like endless opportunities and soaring success for your mobile games, right? Let us explore the MENA region, its biggest markets, and the potentials you can nurture when you localize games into Arabic.
League of Legends, PlayerUnknown's Battlegrounds (PUBG), FIFA, and Fortnite. These are just some of the games that reached and won the MENA gaming audience. Almost half of the region's population is under 25 years old and gaming is one of their main forms of entertainment. To get a preview of how big the gaming industry is, let us look at these three markets: Saudi Arabia, the United Arab Emirates (UAE), and Egypt.
In January 2021, the Saudi Arabia mobile game market led the region with an approximate revenue of USD 680 million. The UAE mobile game market followed with USD 280 million, and the Egypt mobile game market with USD 192 million.
Apart from the three leading game markets in the region, gaming companies can explore the potential of other countries as well. Lebanon, highlighting the Beirut mobile game market, also reached a revenue of USD 102 million. Among the Arabic-speaking countries, Egypt made up 58.7% of the total gamer population.
Adding up these numbers with the other MENA countries, the region is definitely a fast-growing gaming market! Tracing its yearly growth until 2020, the MENA gaming market had grown by 25%. Since it did not stop in 2021, game developers can only expect more for 2022.
When you expand your mobile game into MENA, it helps to have an idea of which genres get a high-engaged gaming audience. With technological advancements such as cloud gaming, VR, AR, and 5G, the demand for mobile games will continue to rise. The Middle East gaming market has also been adopting fantasy sites and e-sports betting, opening doors to various international games.
There are many ways to successfully reach the MENA gaming audience with your game, and keeping your eye on the Middle East gaming market can be a good strategy. Now that we have seen the numbers, let us focus on the action plan.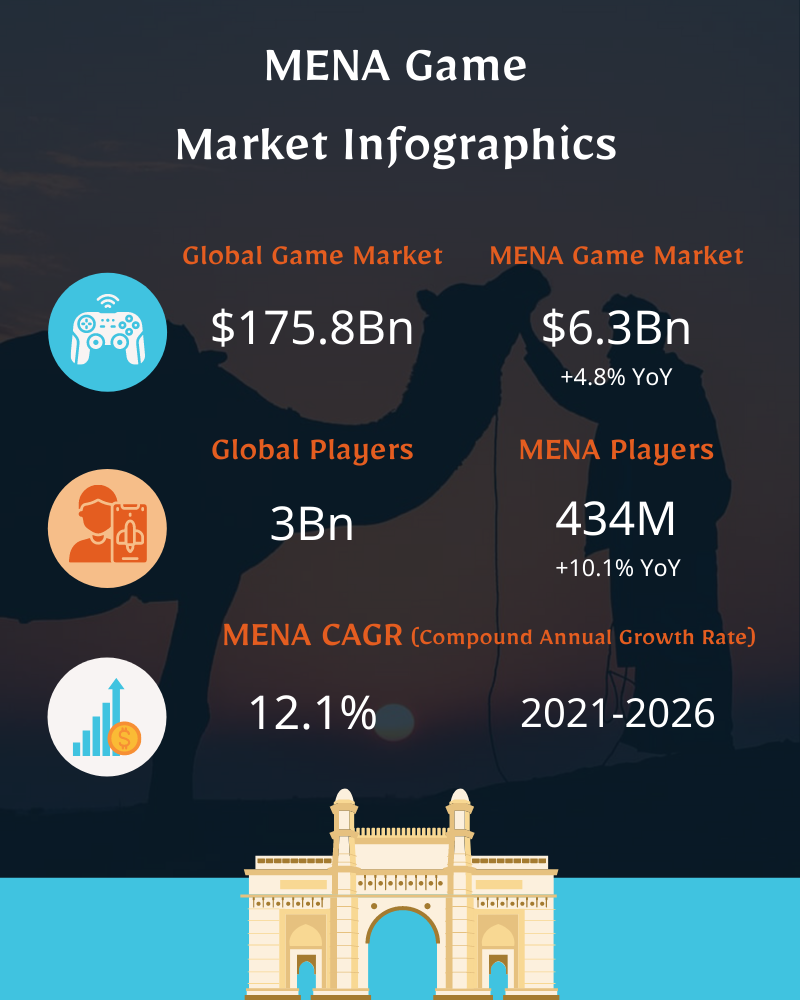 How to Successfully
Expand your Mobile Game into MENA
Now is the perfect time to make the most of the gaming interest and audience surge in MENA. The region is investing in e-sports, and game publishers are investing in the MENA countries! How do you fit into this cycle?
With strategic telecom infrastructure, you can boost your audience with faster matchmaking and expanded player pools. But the foundation of your success lies in the basics: localizing mobile games into Arabic.
Companies expanding into MENA can translate mobile game from English into Arabic and immediately be a hundred steps closer to winning the MENA gaming market. This move aids game developers in accommodating the market's cultural and linguistic gaming needs.
When you make your game available to the target market's language, they get full access to everything your game has to offer. From the game's story to the player's goal; from the set of rules to features and strategies, and especially to the game customer support.
Translating and localizing a game includes learning the culture and language of your target market. That means you put your game in between its origin and MENA. This way, mobile gamers enter your game world without feeling lost or out of place. From hereon, you successfully reach a new, immersed, and wider audience.