Far Cry, Prince of Persia, Assassin's Creed, and a lot more. Gamers can't miss these titles. Do you know where these popular games originated? Yes, they are some of the best French video games of all time!
The success of these games was made possible by French game localization, penetrating other markets across the world through the years. The same applies to foreign games that reach 36.5 million French gamers.
France ranked as the 7th gaming country worldwide and 3rd in Western Europe. In 2020, the country had a video game revenue of 5.32 billion Euros, proving how the video game industry in France is continuously booming. This only means that it is a big market to explore.
The video game market in France comprises more than 30 million mobile gamers, at least 37 million pc gamers, and over 13 million console gamers. The most popular game genres in France include Sports and Trivia, giving many gaming companies an edge in the industry.
How can you introduce your game to the France games market? Regardless of your genre, you can bring your game into the country through the skills of an English to French video game translator. Not sure how it works? Let us talk about it.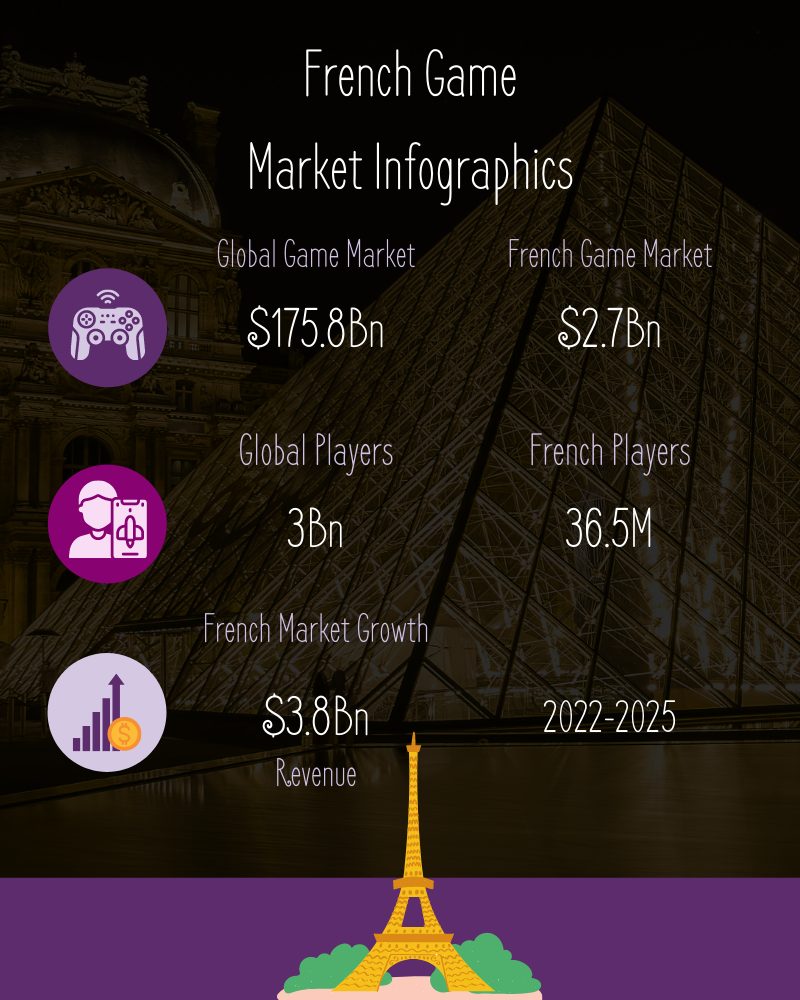 The Growth of the
French Game Localization
Industry
Video game localization in France has constantly become more in demand as the number of gamers in the country also increased over time. If we look at the country's video game revenue from 2014, it has gradually increased with a slight drop in 2019. From 2.7 billion Euros to 5.32 in six years? France is welcoming more and more games to cater to their gamers!
Game localization services into French might be asking, is French, Italian, German, and European Spanish (FIGS) still the industry's sacred cow? Well, French is widely spoken in countries such as Switzerland, Belgium, Monaco, and Luxembourg. Outside Europe, the language is also used in the Democratic Republic of the Congo and Canada, among others. The French game localization industry can't run dry.
It is easy to foresee that the number of French gamers will keep on increasing. And when we talk about the language itself, Forbes Magazine has said that French is growing in the fastest-growing areas of the world. It is projected that by 2050, the language will be spoken by around 750 million people. That is your green light to translate your game from English to French.
The video game market in France should be your next target. To ease your apprehensions on French in-game localization, let us guide you with the basics.
French Game Localization
: Dos and Don'ts 
Unfortunately, translating and localizing games is not child's play. It becomes even more challenging when you translate to French! Still, video game localization in France is not unworkable. If there are some points that an English to French video game translator would want to point out, it would be:
Do find out which French you are looking for.
In France alone, there are already 28 regional accents. And remember that other countries across the globe speak the language, too. Identifying which French you are targeting could be an excellent first step.
Don't rush your translation and localization.
It is crucial to plan ahead. Localization requires time, so make sure you set a budget and a reasonable deadline for it. Nothing good ever comes out of crunch time!
Context is king when it comes to translation and localization. Take into consideration that you are sharing a whole culture with a different audience. It is important to make your gamers understand. Translators will need all the context to give a good output.
Don't forget about formatting.
English and French have formatting differences that you do not want to miss when localizing your game. These details might be easy to overlook, but it is part of good localization. For example, English quotation marks are usually "". In French, it could be guillemets (« »).
Do only work with professionals.
You have no time to learn a whole new language to localize your game. And you do not want to settle with incorrect translations in a rush to reach the French market right away. Trust only the professional translators to take you there!
When you do successfully translate your game to French, the journey to the video game market in France still has more steps for you.