Genshin Impact, Mobile Legends: Bang Bang, Call of Duty, and a lot more. These are just some of the biggest games developed in China. Yes, these games are what you are currently playing with other players across the globe!
China's influence on different industries worldwide includes gaming. Many of the current top computer and mobile games were developed in the country, reaching billions of players globally. Of course, the popularity of these games is made possible by translation and localization.
Understanding the Chinese game market and its sales and revenue is vital to answer the big question: Do you need Chinese game localization?
Recently, the Chinese government has issued regulations on allowing minors a three-hour window for playing video games per week. The Chinese youth are now only allowed to play games between 8 p.m. and 9 p.m. on weekends and public holidays. What does this strict regulation say about the Chinese game market? China's gaming market is built on highly compelling games.
With over 720 million gamers, China plays an average of 12.4 hours per week. According to Limelight Networks, this exceeds the global average of 8.5 hours per week. Despite the decrease in the industry's value following the issue with the youth's gaming habits, the country reached a revenue of 278.7 billion yuan in 2020.
China's gaming companies continuously diversify their games. Tencent, the country's biggest gaming company, is known for developing the world's most popular games. They started with QQ Tang (QQ堂) in 2004, followed by its variant games Dungeon Fighter Online, Q.Q. Fantasy, Xunxian, and more. The company also hosted online multiplayer games in 2011, including Call of Duty Online and League of Legends.
Apart from Chinese P.C. and mobile games, gaming companies also invest in foreign gaming. Tencent, for example, has invested in non-Chinese game publishers and developers since the 2010s. The list includes U.S.' Riot Games and Epic Games, Japan's Pocket Gems and Marvelous, and U.K.'s Frontier Developments and Sumo Group.
Chinese game localization plays a big part in the country's industry. In fact, its impact is evident in the current gaming world. More and more Chinese games enter different markets, and other countries also reach the Chinese game market.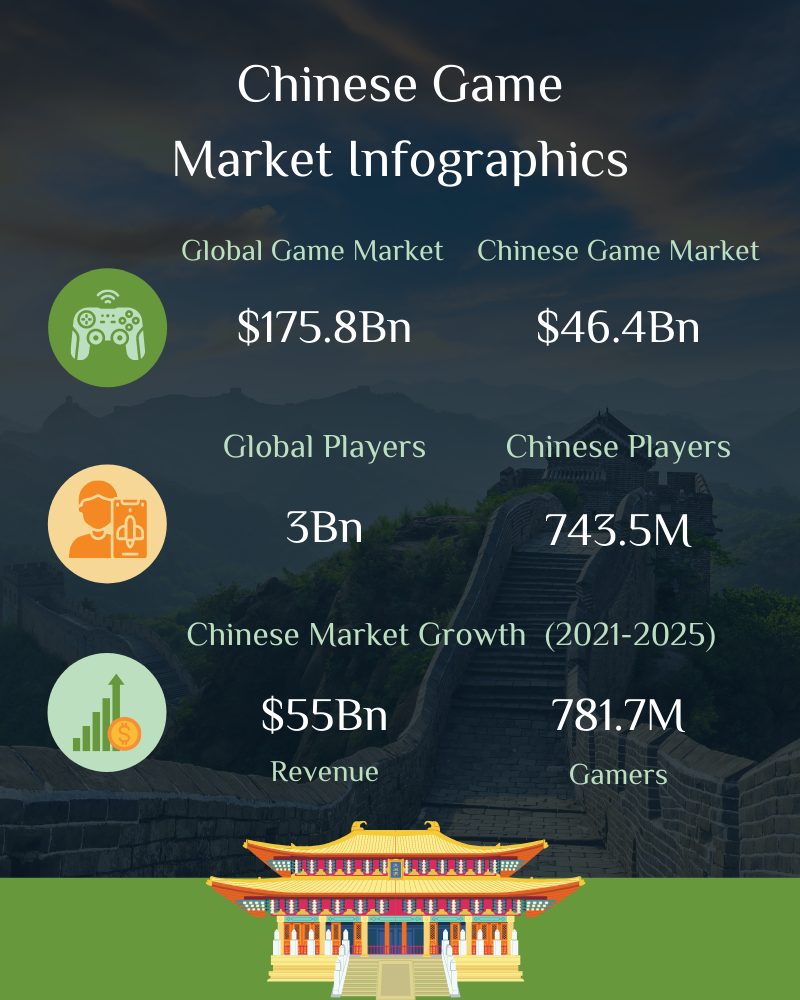 Chinese Mobile Gaming Industry
China has over 682 million mobile gamers, making the Chinese mobile gaming industry the biggest in the world. The local mobile gaming revenue rose to $29.2 billion in 2020, reaching its highest annual growth since 2017.
Gaming companies are eyeing the pandemic to influence the changes in gamer behavior, spend, and engagement. The growth of the Chinese mobile gaming industry becomes an opportunity for gaming companies to enter more markets.
This is where Chinese game localization also comes in. As the number of mobile game players rises, the need for mobile game localization also becomes more critical. Whether it is game localization into Chinese or another language, a game localization company can maximize the industry's potential.